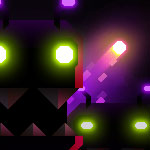 Oh noes!1!1! We've only gone and completely changed everything in the latest beta of Revenge of the Titans v1.7. And I really do mean changed. Pay very close attention, because the way you've played the game until now won't work any more! By way of easing you into what is undoubtedly a horribly traumatic shift of tectonic proportions (and indeed, speed, judging by our tardiness), I shall first briefly explain how the previous versions played out, roughly.
What The Old Game Did
The timer starts when you place your first refinery, and the Titans start spawning. Crystals are dotted all over the shop, and so you spam your super-cheap refineries everywhere, guaranteed to make a reasonable profit from them. The timer eventually stops, and the remaining Titans start getting faster. Then when the last Titan is slain, the level ends, and any unmined crystal is lost forever. And slightly inexplicably. The better you do, the less crystals are generated for the next level, by way of curbing your brilliance a little if you're doing exceptionally well…
What Was Wrong With That?

So you've been playing the game for a while and were pretty much happy with this state of affairs. But there were a couple of niggly issues that irritated me a bit, and which maybe irritated you too. Firstly, you have to spam loads of factories everywhere, and they get in the way a bit, and they're a bit irritating to have to keep wafting your finger over when there are so many of them. Secondly, why is it that you lose any unmined crystals after having killed all the bad guys? That doesn't make any sense at all.
How Can It Be Fixed?
Unfortunately fixing this minor gripe turned out to be quite involved. Every time something was fixed it broke the balance of something else. Let's start with the losing unmined crystals issue.
Fine: we'll fix that by not ending the level until all the crystals are mined. This unfortunately has enormous knock-on implications. Firstly, it means that you need to be made very aware that you're not mining crystals, so that requires a HUD update. It now has a flashing warning icon telling you there are crystals that don't have refineries on them; you can click it to cycle zoom between all such crystals. There's also a counter telling you how many crystals there are left on the level.
Secondly, the sheer number of crystals you've got to scout around finding on later levels gets tedious and incredibly difficult. So I had to drastically reduce the number of crystals. Unfortunately this meant that they were then accounting for very little cash, and worse, you could surround all the crystals sometimes so efficiently, they'd get mined before a single Titan even spawned, thus ending the level! So I had to make refineries cost loads more. But then they mined so slowly the levels were artificially dragged out too long. So I made them hold $250 instead of $100.
Thirdly, what's to stop you just making a neat defence, starting the Titan invasion, and then shooting Titans for cash indefinitely whilst not bothering to mine crystals at all? So Titans are now no longer worth any cash! This fundamentally changes the balance. Now all your money has to come from crystals (and, more rarely, pickups). This puts a much greater emphasis on the mining aspect of the game. It also allows you to choose between leisurely mining and frantic defence, or frantic mining and leisurely defence, or strike some balance between the two. Your research patterns will change significantly: reactors speed up refinery production – and thus end the level sooner – meaning you spend less on defences. Silos make refineries take much longer to mine crystals – thus making the level take longer and spawning loads more aliens, but can make you 50% more money when placed cunningly. Decisions, decisions!
Now we've got another dilemma. With no way to make money from shooting gidrahs, what do you do when the player's got less than $250 left for a new refinery and no other income coming in? I put a tweak in: you can always build at least one refinery, and it'll cost you all your remaining cash up to the full cost of a refinery. You can even build one for free if you've got no money.
The timer bar now counts down to an "elevated threat level" skull. When the timer runs out, the Titans start their rush. As if that weren't incentive enough to try and mine everything before it occurs, there's also a medal and large cash bonus for mining all the crystals before this happens 🙂
As soon as all the crystals are mined, the timer finishes automatically and the rush starts, so you have to mop up the remaining aliens.
The total amount of crystal generated each level is now completely fixed at a constant (though the distribution is still random). This eliminates one factor of complexity when attempting to tune the difficulty level. Silos are also rather a lot more tricky to use again, which limits their potential to screw balance up. Silos are a long-term strategy. Difficulty now solely affects how mean the Titans are.
By the way, you still get a big cash bonus for defeating a boss. Hurrah!
The end result is all a bit more nicely balanced, logical, and a little bit more like survival mode. So, er, what do you make of all that then?
Downloads
The downloads are in the usual place:
Windows
Mac OS X
Debian Linux (32 bit)
Debian Linux (64 bit)
Generic Linux (32 bit)
Generic Linux (64 bit)
Webstart (all OSes)
Bugs Fixed
Fixed: turret beam angle was offset
Fixed: don't do building destruction noise on sale
Fixed: flying gidrahs ramp-up speed was way too much too soon
Fixed: gold awarded even when level made easier
Fixed: large weapons ammo indicator never reached empty
Fixed: endless mode finished at level 50, and was therefore precisely not endless at all
Fixed: ESC menu missing buttons sometimes
Fixed: Shotgun missing ricochet emitter
New Features and Enhancements
Totally changed gameplay
Survival: each world increases in size and difficulty
Disruptors now show blast range as a purple ring
Blast mine pips
Speech!
Boss death noises
Finalised blaster noises (hurrah for slinkies and tuning forks!)
Bullets now ricochet for only a short distance, and with an added angular jitter
Show total medal and rank bonus on intermission screen
New and improved gidrah AI
Extraction Tuning research now doubles refinery production rate
Optics research now gives an entire scanner's worth of extra range to all turrets (was half)
Lasers prefer flying targets
Blasters no longer cause stun, to help differentiate them from shotguns
Gidrahs that go pop no longer spew out gidlets when crushed or smartbombed
Tweaked the tactical brain so that it places different importance on factories, bases, turrets and decoys
Tweaked the smart brain so that it favours bases and decoys over other buildings if nearer
Tweaked all the brains so they take a bit more notice of danger
Limit range of shotguns and assault cannons to approximately max scanning range
Shotguns and assault cannons nerfed! Less pellets, less spread, and pellets damage attenuated by distance
Rocket shells now accelerate
New HUD: use 'E' key to zoom to crystals that don't have refineries attached
Balance
Refineries now cost $250… but can hold $250 capacity in the same time the old ones got $100
Selling refineries now yields a $100 recycling bonus
Armoured gidrahs shot by weapons that aren't sufficiently powerful will survive rather longer
Survival: Bosses get slightly less hitpoints
Survival: Gidrah hitpoint calculation adjusted
Blast cannon now has 4 points armour piercing
Scanners now only cost $5000 to research on account of just how critical they are to success
Likewise silo research now only costs $5000
Cooling towers now cost $5000 to research, putting them on an equal footing with the other turret upgrades
Decoys now only cost $10000 to research to encourage uptake
Decoys now only cost $750 to build to encourage use
Silos now cost $10000 to research
Silos now cost $250 + $250 per silo each once more, but maximum efficiency increase is now 50% (range: 17%, 25%, 33%, 50%)
Slightly longer delay between waves
Disruptors buffed again! To 36 pts damage this time
Slowed down enemy fire rate a lot
Available crystals based solely on level, and unaffected by cash in the bank or difficulty
Crystals now 50% more far-flung
Crystals now twice as valuable
Base amount of crystals increases slightly each world
Tweaked the end-of-level-rush duration to be drawn out a little longer, and slightly less mental
Spiders from Mars now a bit faster
Assault cannon now costs $10000 to research
Internal
Titan Stories
Increased max particle count to 2048
Forced slave particles to be created
Shut off emitters 50 pixels beyond screen edge
Update credits screen
Increase heap space for 64-bit VMs
Allow Sun Java for Linux .deb dependencies
Refactored browser opening code to be a bit more reliable
Max gidrahs now capped to 200 for performance reasons