Soooo… we all had a great time at Rezzed last weekend – thanks to all those who stopped by our booth! All in all the show seemed a success, with a friendly atmosphere and eclectic mix of games, with indie games generally seeming a bigger pull than the AAAs that were there 🙂
Unfortunately we didn't have a huge amount of time to play other games on show, but a few new to us that impressed were Trash TV, Montague's Mount (both of which are on Steam Greenlight – here and here) and Revenge of the Sunfish 2 which really needs to be seen in motion to appreciate how completely bats it is.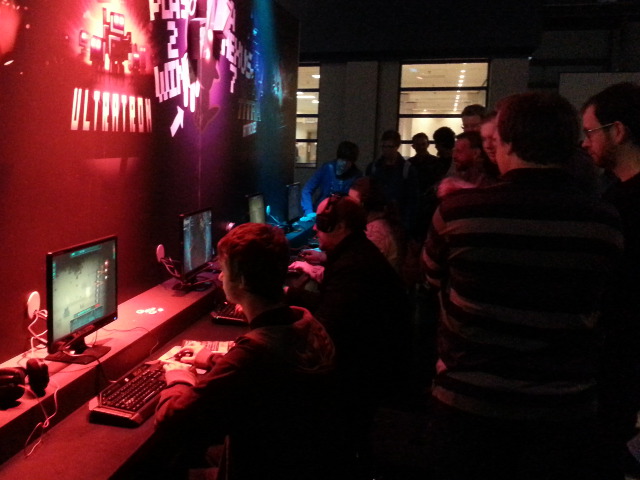 The Win-a-Nexus-7 Hiscores Competition
We were giving away a brand spanking new Nexus 7 tablet to each player with the highest score for Ultratron, Droid Assault and Titan Attacks, and it was a great success with a nail-biting finale. As we approached the end of the show the highest scores seemed unbeatable, but as the returning hiscore holders of both Droid Assault and Ultratron watched on, their records were beaten!…
As Rezzed drew to a close and the lights went up they played on to regain their titles… and they both did, to the cheers of the thousands small crowd that had gathered! It was a great way to end the weekend on, unlike finding that the only pub in the NEC was shut. Bah 🙁
Thanks to all those that took part and congratulations to the 3 winners, who by now should have each received a Nexus 7 through the post. A special thanks to Big Tom and friend for being so entertaining in their frantic but ultimately doomed attempt to get the Droid Assault hiscore, and for almost missing their train home in the process 🙂
edit: TPSou from TPReview got the hiscore for Titan Attacks – no bribery was involved we promise – and here's his winnings.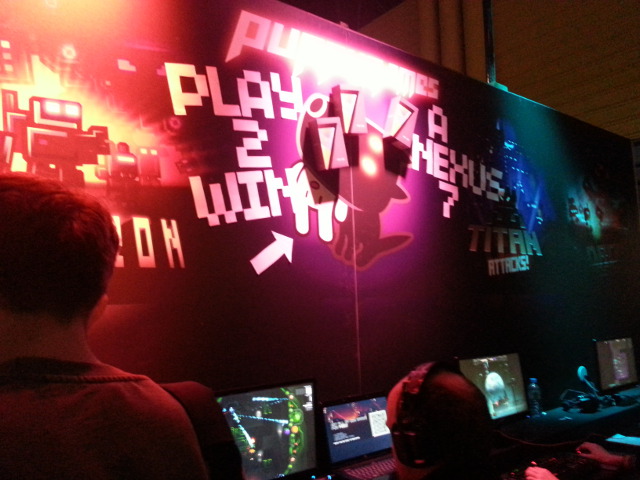 Free Games for all!
We were also giving away all of our games for free, with a QR code on a laptop linking to an unlock page, and it worked a treat. We ended up giving away 1000 games! Puppygames badges were also extremely popular and we completely ran out by the end of the first day.
Q-Con XX
…and onto Q-Con – Belfast's gaming and anime convention, which is being held this weekend. We'll be taking part in the Q-ED sessions and generally loitering around with a laptop – come and say hello if you're about.