Well, it's time for one of our lamentably infrequent blog entries. So much has happened since the last one I can't even think where to begin.
Whither Battledroid?
Alas, woe unto Puppygames, for we are broke. Due to several decisions of dubious merit last year we've ended up wasting most of our cash on things that never flew. We tried for several solid months to rescue our direct sales but it seems nothing but nothing that we can do will change the fact that at any given moment, Steam comprises 97% of our income. And that's just when there isn't a crazy Steam sale on. So we wasted months on that and achieved precisely nothing.
This is especially depressing when we consider that those months could have gone into furthering the progress of Battledroid.
Battledroid has in fact come quite a long way – we've got all the backend services working nicely, and battles are resolved on the server(s) accurately and transmitted back to the client deterministically. Twiddling the AI parameters of the robots makes a considerable difference to the outcome of the battle, as does initial positioning. It was all looking really great…
…except we only had about four months' cash left in the bank (as of the start of May), and by my best estimates, we needed to spend about another 12 months on Battledroid before it could actually take in any money (which itself is a dauntingly difficult prospect for a game we were planning to release for free).
This left us with a conundrum.  We needed another 8 months' cash (which in Puppyland amounts to about £64,000) to release Battledroid. We had always thought we'd do a Kickstarter project to raise the money but some uncomfortable truths about Kickstarter raised the spectre of doubt. The first was, we'd need to spend another 2 months on Battledroid to get it to the point where we could show the real gist of the game from end-to-end, where you choose a territory to attack, place robots, twiddle them a bit, watch the simulations, submit the army, await the result, and then watch the actual battle. That'd be enough probably to show a Kickstarter viewer what we were planning to do. Then we'd need to spend about another month creating a kick-ass Kickstarter pitch, and finally, another month curating the project and drumming up support.
At the end of which we'd have no money left in the bank, no game that we could actually sell, and in all probability… no funding from Kickstarter. It's a gamble. Free-to-play games are apparently even less popular than normal Kickstarter game projects, and we need a not-insignificant sum of money to get it to release. Furthermore we're hobbled by having to do our project in UK sterling, which means we lose 20% of it to VAT, and probably another 33% of it due to the fact that most people backing Kickstarter are Americans and most Americans are terrified of anything that isn't a US dollar and won't back it.
So what else can be done in four months instead?
Welcome to Basingstoke
Well, it turns out four months is about how long it takes us to make an arcade game. Well, actually it takes a little longer usually but we're thinking that being in a panic might focus our attentions a bit more keenly this time and besides, surely we know what we're doing by now.
Enter our latest bit of silliness – Basingstoke. The general gist of it is that you, the player, are trapped in the blasted ruins of Basingstoke, a fairly anonymous English town, following the Titan Invasion. Astute fans will remember Basingstoke was the first up against the wall when the Titans turned up.
Under cover of darkness you've got to do what any normal person would do when in Basingstoke – which is try to get as far away from Basingstoke as you can. It's a brutal arcade roguelike game with no hitpoints, only instant death. Your main tools are sneaking, distraction, surprise, and running away. There should be a bit of crafting as well to improvise gadgets to help you. Guns are a last resort and there won't be many of them about.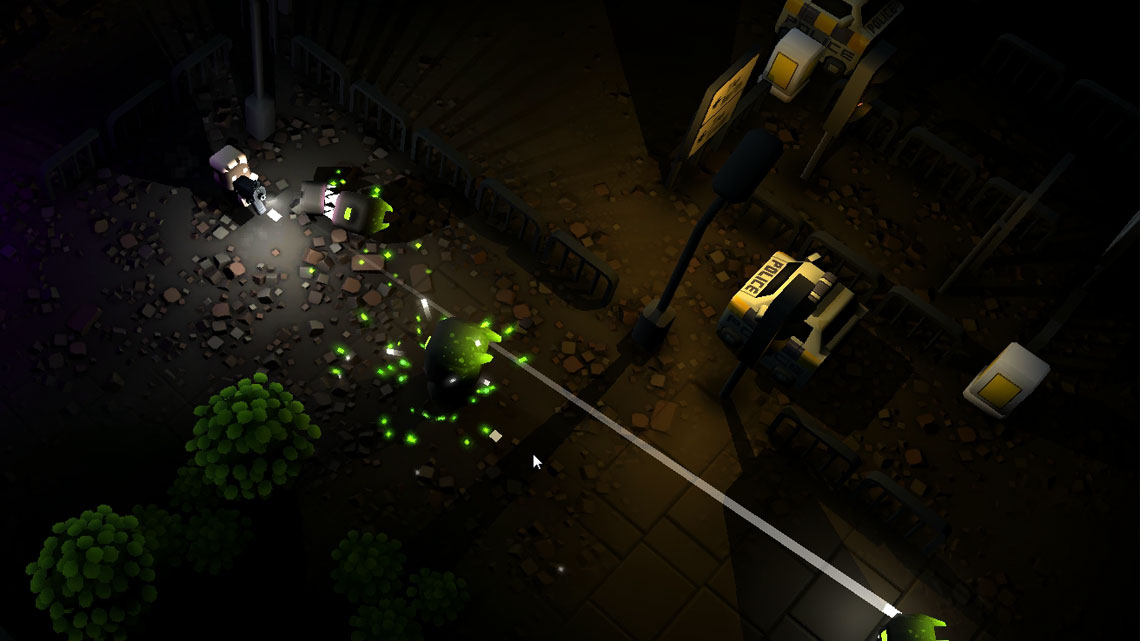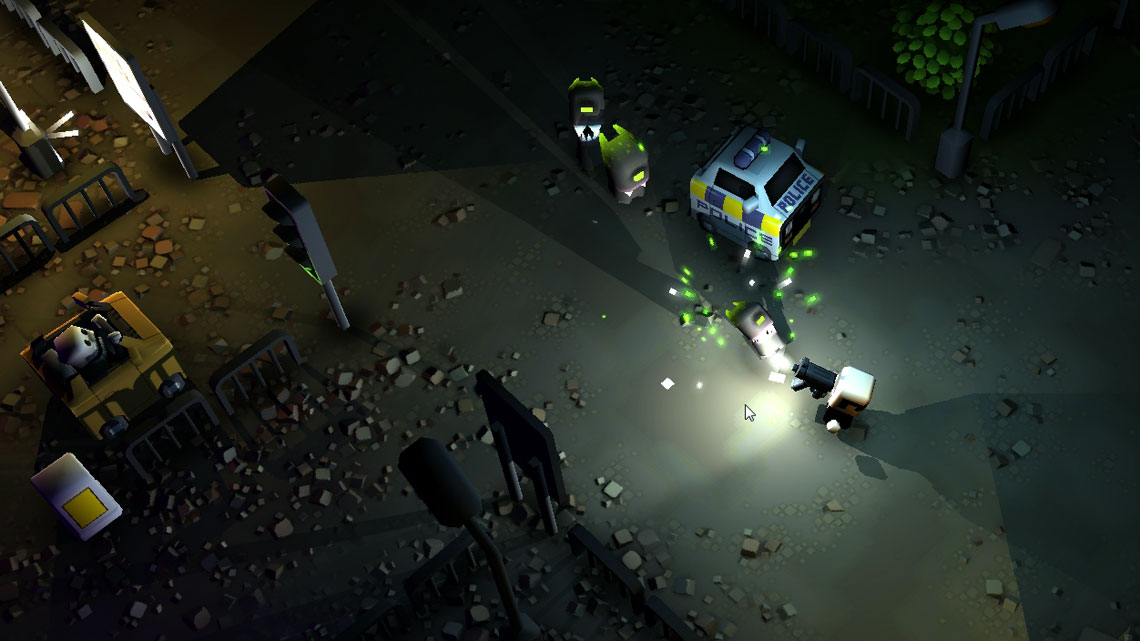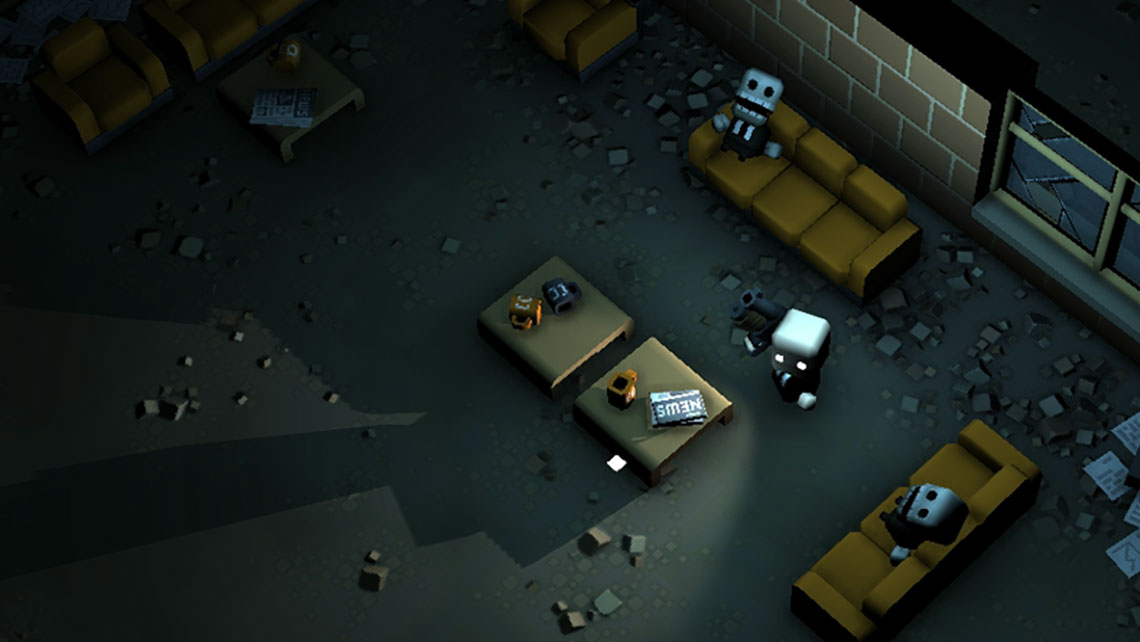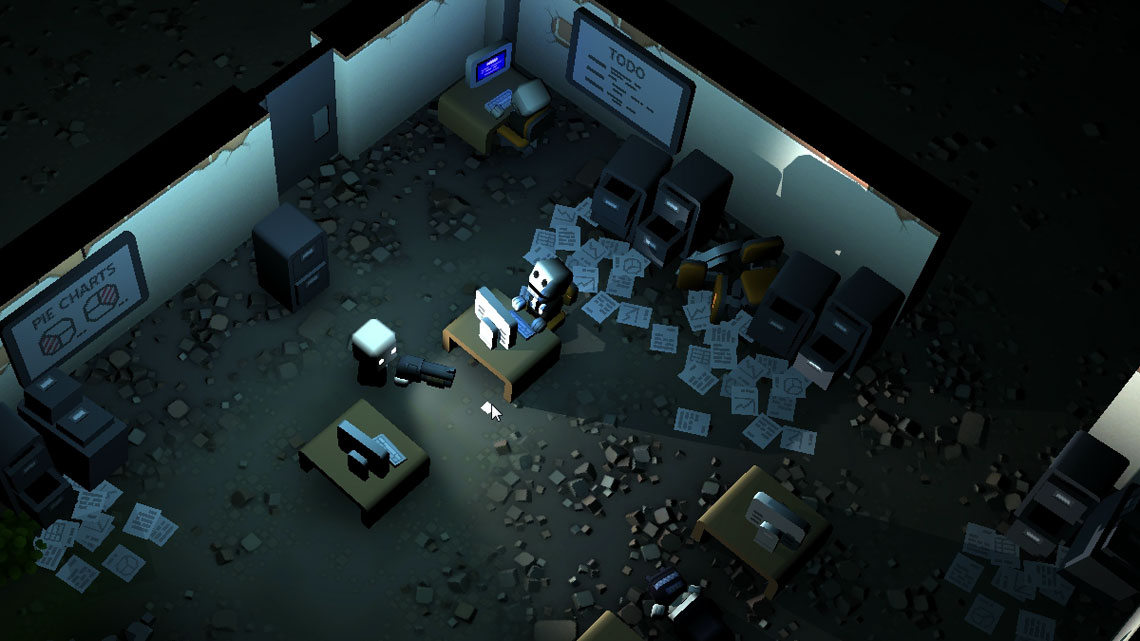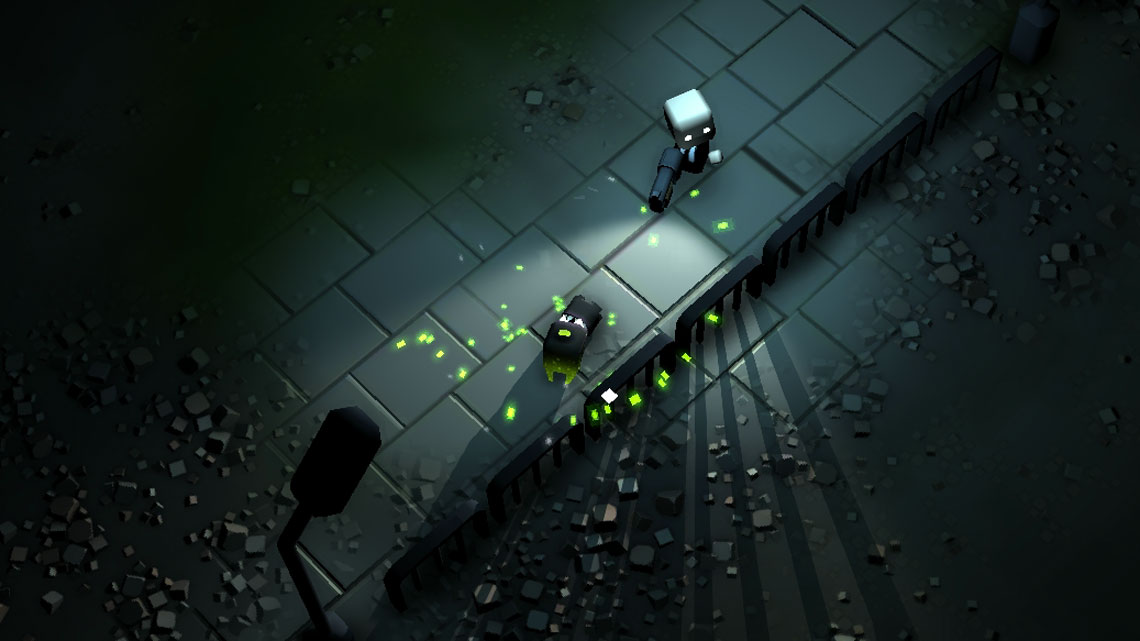 So all things being well… we'll have this ready for you to play in October (some time after we've already actually run out of cash). It's already shaping up to be super-fun to play.