Revenge of the Titans is Released…
… on …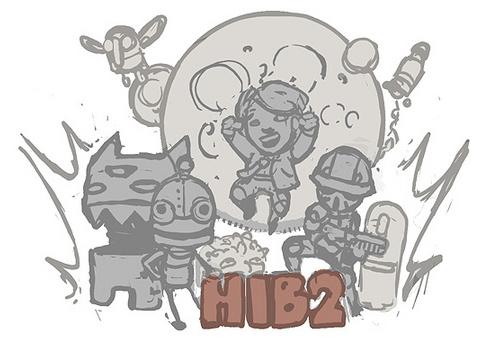 …on The Humble Indie Bundle #2! "What!" you cry. "I just paid three shekels and a camel for your miserable beta programme to try and blag a tidy deal! I feel extra cross, and entitled to a lifetime's supply of creamy grapes fed to me by attractive Mediterranean virgins!"
But wait! There's more to it than that!
The Humble Indie Bundle #2 has got no less than five awesome games in it: Braid, Cortex Command, Machinarium, Osmos, and a special deluxe edition of Revenge of the Titans! And another trick or two up its sleeve, as you will discover…
Deluxe Edition
The Deluxe Edition includes all of the full length mp3 tracks from Dave Sunerton-Burl! He's spent four months making the album, and he's just as unemployed and broke as Chaz and I are! So please consider supporting Dave and making a contribution to the bundle even if you've already bought the game direct from Puppygames. In the couple of weeks or so we'll also try selling the album from our site for some nominally tiny sum, and all the money will go towards keeping a roof over Dave's unemployed ass. And his family. He is truly a star and really deserves it.
More good news!
What's more, you can choose what you think all of this amazing l3wt is worth – so if you feel like it, go buy that bundle, and deduct what you think Revenge of the Titans is worth if you've already bought it direct from Puppygames. But also consider – this is your chance to do a super good deed this year and donate a bit of money to Child's Play Charity and the Electronic Frontier Foundation (EFF)!
The Humble Indie Bundle #2 is also specially set up to be bought as a gift – and what greater Christmas gift can there be than these five fine examples? Search no longer for that elusive present for your housemates or geeky spouse. You have reached your goal.
Love and peace to all from Cas, Chaz, Dave, Mike, Steve and Brian. Go forth and donate!
btw… I've been trying to post this for the last 7 hours – HIB2 got tweeted 10 minutes before we were expecting – and then the database fell over with the massive traffic spike – apologies for those who have had trouble getting here 🙂
Linux problems!
… we're having some problems with the linux builds. If you're getting errors such as…
unable to create `/opt/revengeofthetitans/full_length_music/einleitung.mp3.dpkg-new' (while processing `/opt/revengeofthetitans/full_length_music/einleitung.mp3′): No such file or directory
…we'll be uploading new versions in the morning that will fix the problem (touch wood).
In the meantime you could try sudo mkdir -p /opt/revengeofthetitans/full_length_music and then try the installing again.