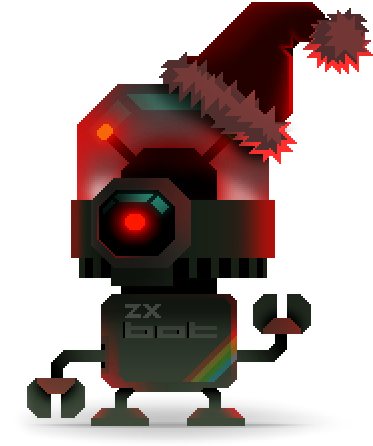 Wolcum yole! Christmas lurks just around the corner, ready to pounce on unsuspecting credit cards and weakened bank accounts. To alleviate the suffering just a teeny, tiny, weeny bit, here is a new version of Revenge of the Titans, v1.80.14, which in a few days' time you will discover has a special Christmas treat in it.
Here are the download links (except for you Humble Bundle types, you need to go back to your Humble Bundle download links and get them there. And, er, wait a day or two for the caches to update first):
What's New and Noteworthy?
The first thing half of you will notice is that the mouse handling is completely different. I realise that this is a fairly bold and risky thing to do to a fairly long-established control mechanism in a product that's already very mature, but… it never really worked properly before, you see. It didn't use the desktop mouse settings, it didn't work with tablets, it didn't work with some mouse drivers, it was quite frequently completely erratic in movement, and it also grabbed the mouse when you clicked on the window which is kinda rude and doesn't behave nicely in windowed mode when it comes to alt-tabbing.
So now the mouse is no longer captured by the window, and you use either the left or right buttons to scroll the screen by click-and-drag. The right mouse button has a tiny sensitivity threshold on it, which means it should still respond sensibly to its original functions (picking up buildings to build, cancelling operations), whereas the left mouse button will immediately drag. The left mouse button of course won't drag if what you're clicking on would otherwise have some other effect – for example, attempting to drag whilst in range of a capacitor isn't going to work – you need to use the right mouse button.
The reason for allowing the right mouse button in drags as well is so that you can go into build mode and still scroll the screen about with the mouse like you used to. Or smartbomb mode, etc. It takes a little bit of getting used to – especially after 4 years of the old way of just waving the mouse about – but after a few games it's just second nature again. Of course you can still use the cursor keys or WASD to scroll anyway if that's what butters your bread.
The next thing I've changed is the display context handling. Er, what's that, you ask? Well, put it this way: if you had driver problems before, they might have gone away now and the game is more likely to run. There were a lot of issues with the nice resizable window we introduced in v1.80.13, and hopefully they've all gone away now, although sadly with the loss of the minimise and maximise buttons.
The powerup spawn effects (and building attack effects, etc) now use chunky fat lines to draw, and because they're now being drawn the same way as everything else in the game, they should be proper fast on all drivers. A few people had problems with the game suddenly dropping to about 2fps whenever a powerup spawned. This should now be fixed. It looks prettier, too, I think.
Finally there's a subtle change to the way animation works, and screen transitions. You probably noticed on the screen transitions that some sprites were rendered before others, just for a single frame, so we'd have this sort of partial display which was just noticeable. This especially irritated me because I've seen it about 100,000 times, and it's been bothering me for several years (yes, really). Well, I finally got around to fixing it.
Please let us know ASAP if there are any odd issues with the new version!
So Long, Desura
This part of the post is likely to attract all manner of hate and flames, but it has to be said: Desura wasn't working for us. We spend just as much time and stress figuring out how to release software on the Desura platform as Steam, but unfortunately make literally 1/1000th of the money. So little in fact I don't think Desura have even managed to pay us any money yet. It doesn't make sense for us to support Desura any more, and so we're not. Don't get me wrong – it's a great client, their hearts are in the right place, but… we're on Steam.
So my humble apologies to anyone with their eggs in the Desura basket. Contact us if you've got any issues.
Ultrabundle refresh being prepared
If this release of Revenge goes to plan, that is, generally seems to work properly, we'll do a refresh of the Ultrabundle games using the same code, which will fix the same issues, etc. Fingers crossed.