As a little treat for the internets, on my birthday the other day I decided that we would give away our games for free, and see what the power of a single tweet could accomplish.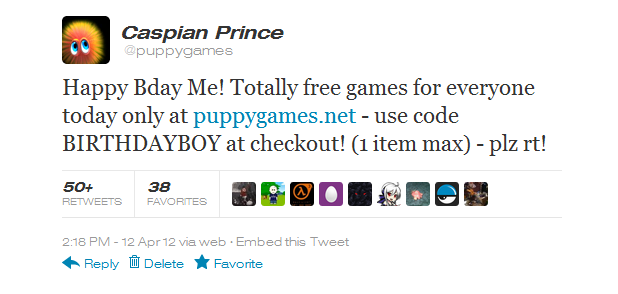 Well, of course, our server was flattened within the hour, as it turns out our keygen can only generate about 15 keys a minute, and we went on to give away 22,500 keys.  The only reason we only gave away 22,500 keys was because BMTMicro, our payment provider, closed our shop page after 12 hours because we couldn't cope with the huge backlog coming in.
To make matters more amusing, we only had about 6,000 Steam keys to hand, and these ran out sharpish as well. It also turns out the Steam key retriever contained a schoolboy thread race error in it causing a couple of hundred people to receive duplicate Steam keys. And the cherry on the cake was that unbeknownst to us, a few days before the promotion, our server silently stopped sending email to customers after it was "migrated" by Rackspace. I've no idea how its configuration could have changed in that time, but it did. So we had this perfect storm going on:
Site flattened
Shop page shut down
Ran out of Steam keys
Email sender kaput
The end result is that my single tweet generated 3,000 support emails, none of which we will be answering 🙂 No, instead, we are going to send an email to each and every one pointing to a FAQ page which explains what went wrong and what you can do about it, and if you've got some problem that's not answered in the FAQ, we advise emailing us again.
Abuse!
It didn't take long for some people, in Eastern Europe and Australia, to latch on to our generosity, and quickly create scripts to generate hundreds of Steam keys for themselves, which presumably they have been trading. Unfortunately I know about this. Unfortunate for them, that is, as every single one of these keys will shortly be invalidated by Valve, who will also at their discretion be completely banning accounts who took advantage of the abuse. This is called "karma".
Slightly Less Abuse!
I'm not sure just how clear that tweet was about the offer but to me it looks very much like "1 item max" means that I only wanted to give away one game each on my birthday. I'm terribly sorry to all 3,137 people who decided to take all of our games during the offer, because I've had to disable them all, and again, Valve will be taking your keys off of you, and no, I'm not giving them back because there are thousands of you and you had your chance and blew it.
What We Are Left With
So out of that 22,500 "sales", we've actually ended up with just 11,200 legitimate people who took us up on the offer – happy birthday me! And a thousand thank yous to all those who took the offer in the spirit in which it was intended – you really are our fans and you make it all worthwhile for us. Keep an eye out for the completely updated, revamped and changed Ultratron 3.0 coming in the next couple of months, and of course, Droid Assault will be making an appearance on Steam as well soon.
Some Of Your Problems Answered
Where do I get the Steam key from for my game?
http://www.puppygames.net/steam
I got a duplicate key! Can you fix this?
Just try again, it's fixed now.
I never received the email you said you sent me!
Try again, it's fixed now. And check your SPAM folder!
It says you've run out of Steam keys!
We've got some more now, just try again.
My game has reverted back to a demo version!
That's too bad – I did only want to give one game away each and I haven't time to deal with everyone who somehow "misunderstood"