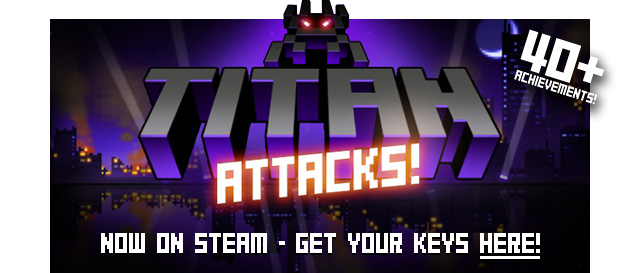 Ever wondered exactly what the Titans wanted revenge for? Not long ago, our esteemed friends from Titan attacked our peaceful planet, a battle which played out in our seminal shooter Titan Attacks – winner of Gametunnel.com's Action Game of the Year!
Well obviously you must have soundly thrashed them. Why not relive history and show us how it was done – and in case you missed the news – now you can do it in recently updated crispy HD graphics!
Getting to the point 🙂 … Titan Attacks is now available on Steam for both Windows and Mac OS with over 40 new Steam achievements and online hiscore table!
… and to celebrate the launch, for one week only, it's on special offer!
Alternatively, if you'd like to support us by buying direct, you can then activate a FREE Steam version, which means more pies and ale for us, and if you've already bought Titan Attacks no worries – we'll give you a Steam key too.