So, my big news is the birth of daughter number 2, Saffron Natalie Asia Prince (continuing the tradition of strange and unusual names in our family). Born at 815am on Saturday morning and weighing a colossal 10lbs 4oz after an extremely gruelling 26 hours of what looked like a pretty nasty labour! But all's well that ends well and baby and mum are hale, hearty and healthy, and we were all home in time for mid-afternoon tea.
Another mouth to feed! Bugger. As I have alluded to my geeky friends though, I shall know my life's work is done when my daughters one day ask me, "Daddy, how come the Dude is also in Tron?"
This is all, of course, not spectacularly interesting to Puppygames blog readers 🙂
What might be more interesting are the following items on the agenda: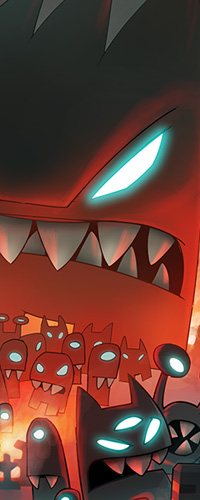 Revenge of the Titans 1.80.7
I've uploaded another patch, early. We need to get it as trouble-free as possible for our release on Steam next week, so I've just stuck to trying to fix the last few important niggles. To this end it's there right now to download, so you can test out the couple of fixes I've done. Here's the changelog:
Bugs Fixed
Fixed: super slow gidrahs
Balance
Reduced Saturn boss armour to 4, so now damageable by more weapons; increased hitpoints by 40%
Internal
Added a Thread.yield() in the tick() loop to see if we can reduce sound stuttering
Added a commandline switch sleep=true to force sleeping instead of yielding for machines with persistent sound stuttering troubles
Game now recovers gracefully from a failed Restore, no more ghostly sprites left on the game screen!
Musings on Pricing
You might have noticed that the price of Revenge of the Titans has shot up to an apparently ball-bustingly massive $27.72 – egads! That's like, nearly as much as a takeaway curry, which will give you, like, days and days of enjoyment! (If you leave it out all night and reheat it and eat it, anyway).
This has caused much nerdrage amongst the Glorious Entitled Of The Internet, who believe that everything should be free or nearly free (and if not free, then DRM free and available from the Pirate Bay). How dare Puppygames suddenly charge full price for their shitty 8-bit retro Flash same-as-all-the-others Tower Defense game? Why would I, Angry Righteous Gamer, pay my week's pocket money out for this piece of utter shit?
Of course, gamers know everything there is to know about economics and pricing models, because they all make and sell games for a living, and do so more successfully than Puppygames do. We are of course famously broke and never made much of a bean with our games, but it was never anything to do with the price of them. We've sold games from everything between $4 and $28, and if you want to know the actual truth of it, it makes no difference to our bottom line whatever price we charge. My esteemed peer Cliff Harris aka Cliffski has rather a lot of knowledge of economics and has a few things to say on the subject which you might find interesting, and which I won't bother repeating here (hurrah for hyperlinks!).
So I'm going to let you in on a few secrets and explanations as to the method behind my madness, mostly because if you're reading this you're a) very likely to already be a fan of our games and supporting us already and b) it really won't make any difference if world+dog knows our secret world dominiation plans.
Firstly: we have always said the game would be $27.72 when it was finished, and we lured your wallets open with a 50% off pre-order beta offer which we rounded down to the considerably more l33t number $13.37. Obviously our UK and European customers got some crazy price in our funny national / continental currency that was around halfish too, except we all have to pay VAT. Bah.
Secondly: if we failed to officially increase the price of the game, that would have made us bullshitters about our pre-order offer. Technically.
Thirdly, there's a 50% off coupon in the game, which is the first thing you see (if you don't know yet it's ROTTROCKS – put this in the BMT order form). So in reality it's still 50% off, just like it always was, give or take a few cents. This is a special offer; we can change that whenever we want. We can offer 25% off, or 75% off, or 90% off. What this does is firstly make the game as cheap as it always was, and secondly make it look like a right bargain compared to its RRP of $27. It also means we can do legitimate sales with apparently astounding savings one day in the future but still make enough money to make it worth doing. At 90% off we still make a profit of about $1 on a registration of the game and 90% off sounds bloody appealing.
Fourthly, we needed to ensure there was pricing parity with the Steam version, which will be released next week at $14.95. The special offer 50% coupon means we're effectively charging the same price as Steam is for the game. Well, a little bit less, but then Steam comes with the real advantages which you'll all know if you love Steam. I love Steam. Don't be ashamed.
So you see, having a high RRP on our site might be newsworthy fail for a few angry Reddit nerds, but the reality is, the game is still obtainable for the same price everywhere, and we can tweak the offer on a whimsy and make it newsworthy when we do so at the same time as making it look like a bargain.
And that's the method to our madness. We have no idea if we're right, but you're sure as shit not going to tell us we're wrong. We've got the numbers to do that for us.