First of all, the Steam key generator wotsit is now up and running here … and hopefully it works too. Go try it blog squadron, then we'll fix it when we find out it doesn't work, and then we'll send out a newsletter.
Secondly, we got a very nice review on Eurogamer.net – 8/10 aint bad and it's full of nice quotes too …
Hundreds of Titans will die, but still they come. As levels creep towards their end, the apparently endless spew of chomping 2D horrors finally peters out, the frown will lift from your face, the sweat will be wiped from your brow, and you will feel good.
…and…
Titans has been continually honed during approximately 38 million years in beta, and it shows.
…for example 🙂
And thirdy, worthy of it's own post if it weren't for the overdue Steam keys thing, we bring you breaking news…
I have photographic evidence of a Megatitan attack during a street parade in downtown Ann Arbor, Michigan yesterday. An entire album of evidence!

https://picasaweb.google.com/lh/photo/BcTEOtk6-vZAfCGd_TpbQQ?feat=directlink

Pity these hapless souls who you see carried in the wake of its destructive power! I was an eyewitness, and I count myself fortunate that I lived to tell the tale! Crowds gathered on the sidewalk, amazed at its mighty roar– an echoing bellow of fury as loud as a megaphone!

The creature defeated Mario. It defeated Wallace and Grommit. It even defeated a camel and an octopus. Nothing could stand before its might!

Who, then, saved the planet earth? The alien invaders had failed to account for one thing. On this planet, H20 falls from the very sky itself. This element was the only thing that could penetrate a carapace of pure cardboardium!

I urge you to spread news of this invasion! More photographic and video evidence will be forthcoming!

your faithful correspondent,
Matt Arnold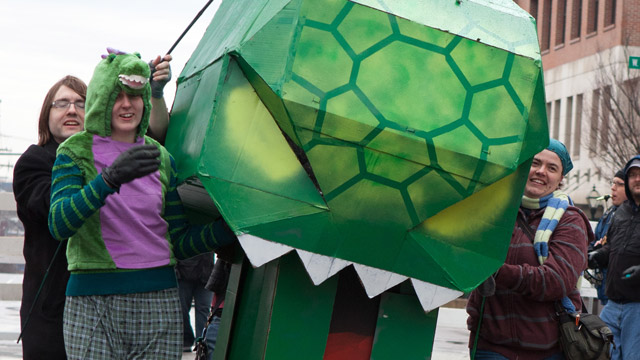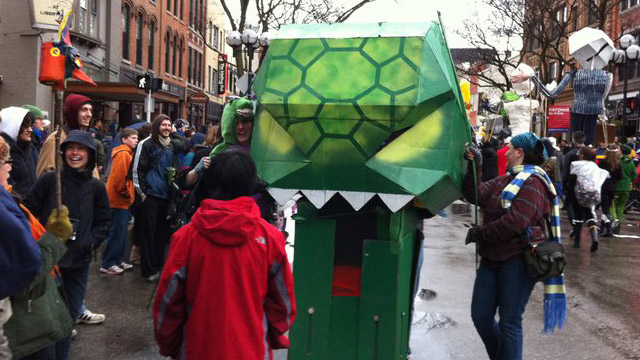 We will indeed bring you any further updates as soon as we get them – who knows where the Titans will strike next!
News update!
Just as we we're going to press, as they say, we've received further footage of the days events…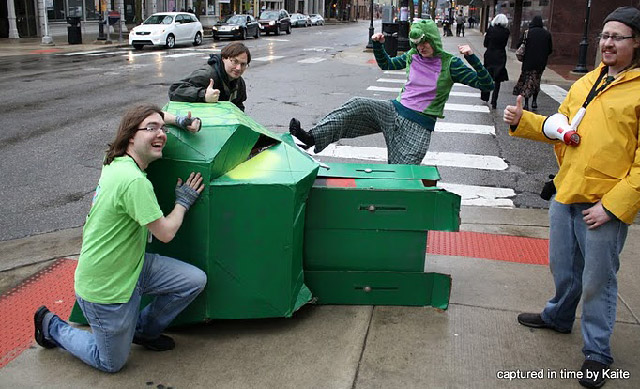 Bigger than the one we bagged in Trafalgar Square! Had that one stuffed, we did. Jolly good, eh what!
Indeed!