Battledroid continues apace. The Deployment screen is the main focus of my current activities, though I did spend last night putting in a fancy new splash screen at game startup because we've been using the same old one for about twelve years.
The Deployment screen now looks like this…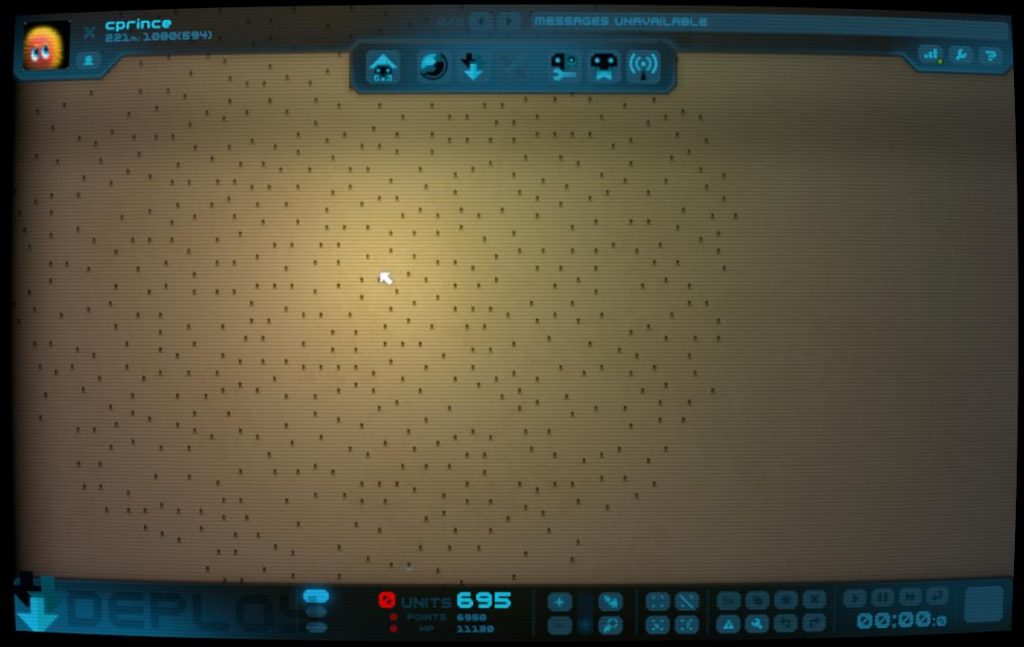 Hello, what are all those little dots? Let's take a closer look: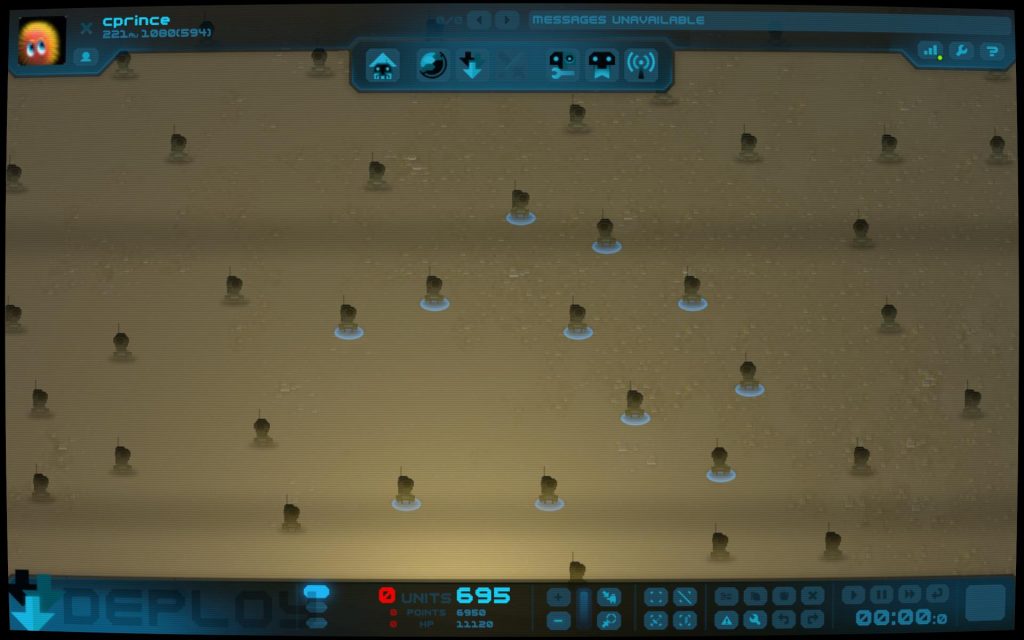 Well, well, it seems there's an army here. That was a little bit of a surprise as I hadn't really looked at the contents of any of the territories before. Ever, in fact. There they were, standing around, and actually looking around vigilantly for signs of impending attack. Their illuminated eyes appear to be dead – probably need to look at fixing a shader there.
Luckily there isn't going to be an attack any time soon as I haven't made the "editing palette" yet.
The Editor
This game is really all about the setup. Designing an army, positioning the units, programming them slightly by tweaking some AI parameters. Testing, iterating. To that end, the game's deployment editor is the fundamentally most important and central means by which you interact with the game itself (aside from the metagame, which is accessed by the similarly technically complicated World screen).
If you're going to spend 99% of your time and interaction in Battledroid in the editor, editing armies… it's going to have to be a very good editor indeed. This means that unlike many game UIs, it needs to be a fully-fledged user experience the likes of which you will already be familiar with in ordinary desktop productivity applications. There can't be any half-arsed implementations of ideas, missing gestures, or unimplemented familiar paradigms – it's all got to be there, from day one, working exactly how you would hope and expect it to work. Many games these days need an interface like TextPad but instead give you something like vim. That'll never do!
So the editor has the full suite of cut, copy, and paste functionality. It has multiple selection tools – drag circle, drag rectangle, add, toggle, replace selection. Selection filters to only select certain kinds of units. You will be able to edit the properties of multiple units – of different types – at the same time with multi-selection properties dialog boxes. You will be able to "paint" with selections, a bit like Deluxe Paint of old – design a small squad of robots, then paint a few squads on the map. And all this with the safety net of both undo and redo.
Over the next week or so I'm going to get the very basic stuff working – painting droids on to the map, cut, copy and paste – and then treat myself to watching the first actual simulation run.
Onwards Towards Minimum Viable Product
About the bare minimum I can release to our Patreons is a game with one sort of robot, and one sort of weapon, on bare empty terrain, upon which you can run battle simulations and finally submit the battle to the server for final resolution. That'll prove to be a technical test for hardware compatibility, and a basic proof-of-concept of the game itself. As there'll only be one sort of robot and nothing to buy it won't actually be much of a test of the game as a product, but that's for later.