Well, we've finally released the Saturn levels for Revenge of the Titans under the guise of version 1.5! This has been quite a complex release, what with the addition of several completely new alien types and a whole new world, and an awful lot of fiddling with balance, bug fixing, enhancement, and so on. Without further ado, here's the links:
Like last time it would probably be a good idea to play through from level 1 again with a new profile, as the amount of money available in the levels is somewhat different now, as is the cost of researching various things.
And here are some pics…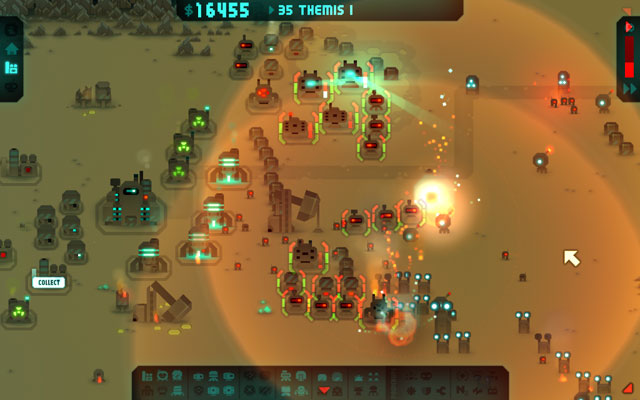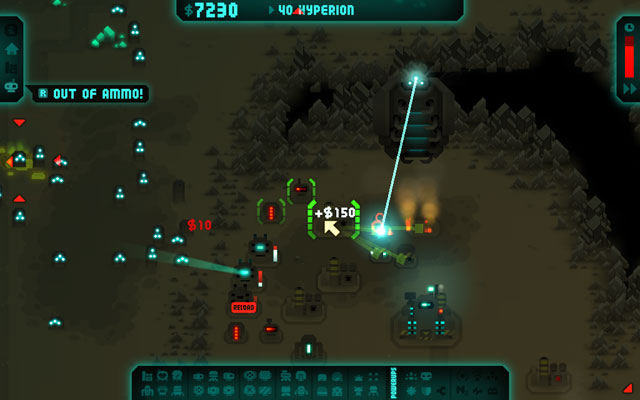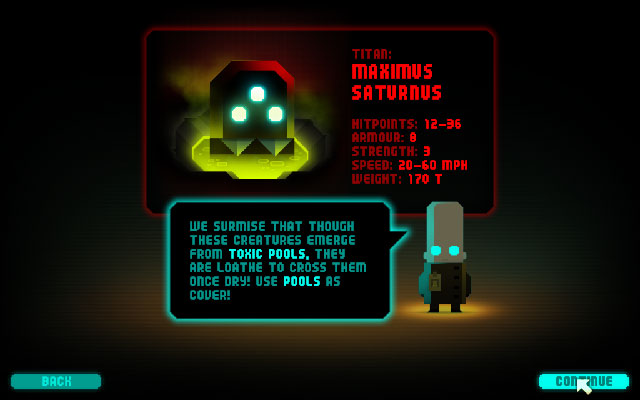 Yes, the boss is armed with a laser. No, he's not very friendly.
What's New?
Bugs Fixed
Fixed: rocket explosion kills gidlets immediately upon spawning from a dead angry tick – gidlets now immune for 1 second on spawning
Fixed: Win32 installer probs on Win7
Fixed: games can now be saved and restored properly
Fixed: lasers and rockets have different initial scanning ranges and scanner influence compared to normal turrets
Fixed: Hide build entity when over other UI elements
New Features & Enhancements
"Replay" level to be accompanied by "Restart" level in menu screen and end game screen
Wraiths now occasionally damaged by blaster fire and explosions
ESC key cancels building
Prevent rocket turrets targeting flying units
Prevent explosions damaging flying unitsPrevent disruptor damaging flying units
Different gidrahs do different amounts of damage. Wraiths are especially dangerous!
Rockets to explode only on striking target location
Rockets to cause splash damage to buildings
Turrets and droids now retarget every 2 seconds to pick better targets
Wraiths now immune to lasers, and can only be stunned by disruptors
Bosses can't be stunned or knocked back now
Put in a load of tips about gameplay and interface
New $500 pickup 🙂
More barricades available per world
Balance
Change gidrah speed increase to linear with difficulty
More and more crystals as worlds progress
Even more crystals on boss levels
Reduce crystals depending on excess cash
Reduce value of gidrahs a bit
Slowly adjust difficulty based on previous level
Autoloaders no longer get more expensive the more you build
Slowed down gid type 3 on the moon a bit, and made them a little weedier
Internal Stuff
Tip sequences
Fast forward button tip
Building factories tip
Harvesting tip
Reloading tip
Painting tip
Placing turrets out of the way tip
Armoured gidrahs tip
Base needs repairing tip
Base needs shielding tip
Powerup tips (normal, cool, exotic)
Scripted tips that appear at set times in a level
Suicide gidrahs
Flying alien movement
Increase danger wherever an alien dies
Laser to use proper rendering
Expression parser in XML files! An easier life for Chaz.
Updated gidrah story text with strength and new hitpoints values
Bombs dropped when gidrah frozen or killed
Bomb dropping
Boss to fire laser from its eye
Flying gidrah "drop attacks"
Wraiths ever so slightly less ghostly
Bombheads can't be stunned once they've begun their attack
Gidrahs all now have different death noises
Balance Changes
Increase price of rockets and lasers and disruptors to $5000
Nerf rockets, lasers and disruptors by reducing fire rate by 1 round / sec
Increased research cost of rockets, lasers and disruptors to $15000
Increased research cost of silos to $7500
Reduced price of autoloader to $500
Increased droid fire rate by 50%
As before, just go on ahead and try it out and if you've got any comments just feel free to post them here. Before you all moan about some things that didn't make it into this release, we're changing our release schedules slightly after this one: we're going to be releasing several incremental updates over the coming two months, every two weeks or so, which in no particular order will add, one at a time:
The much requested Sell button – yes, we reckon this will bring lots of added fun
A facility to hide the HUD so you can place buildings right at the bottom of the map (and general HUD redesign to accommodate it)
Earning medals for certain things, and a medals screen to look at your trophy cabinet so far
Endless mode
Survival mode
And after we've got all that working, it'll be another long stint to get Titan done before Christmas. At which point the game will finally be properly released and increase in price to $27.72. If you haven't yet bought the game, now's your chance! Not only do you get it all nice and cheap you also get to influence the development decisions we make for the next 3 months, and whine about the difficulty levels.
Here's a few more pictures before bedtime: