Here's the first wallpaper, which is a modified version of the image that will be gracing the Steam store soon, touch wood…
Click on the image for compressed .jpg version, or you can grab an uncompressed .jpg or .png (which Windows will convert to a .jpg anyway if you set it as the desktop background, I think.
Will be putting up other sizes, and getting special versions done for those that helped with the Mac icon, soon! … though that's a special Puppygames soon 🙂
ペイントツールSAI ftw!
There's another wallpaper image to come as well, along similar lines, at a later date. Here's how it looked at an early stage in PaintTool SAI, which really is the dog's 'nads if you've got a tablet, and can't draw for toffee*, like me…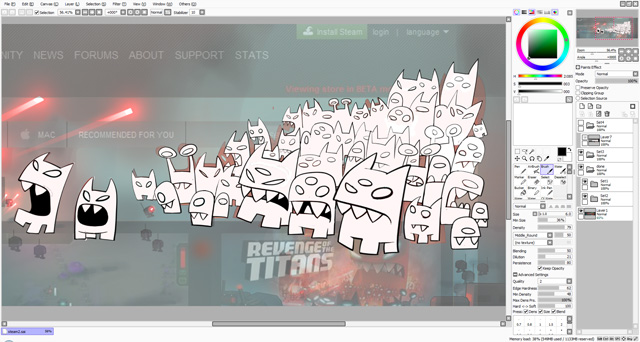 Tune in tmrw to see the finished thing!… Steam permitting.
* It doesn't really make you any better at drawing in general, as you can probably tell by my efforts, it just makes it easier to draw smooth lines with a tablet with it's cunning adjustable stabilizer wotsit.