And it is a proper tweaking. Firstly and without further ado, go and download it and while you're waiting read about what we've changed.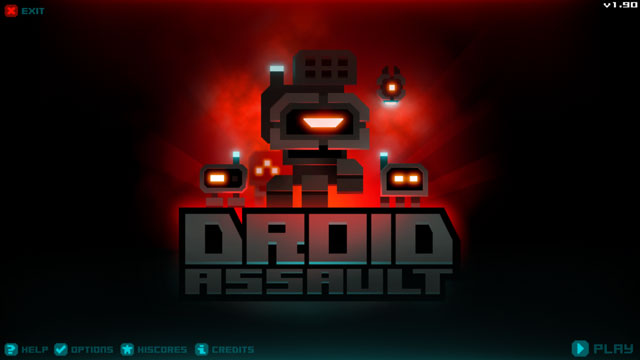 Why we've tweaked it
Before I tell you the exact nitty gritty of what's changed you might want to know why we went monkeying with the secret sauce with one of the greatest videogames ever made, eh? Well, it all stems from the fact that Droid Assault is going to wind up on Steam in the not-too-distant future, and your average Steam punter is perhaps a little more discerning (or shall we say, "scathingly critical"), en masse, than you delightful and forgiving Puppygames fans are.
Droid Assault suffered a few arbitrary and unnecessary limitations in various areas. Firstly it was designed around a rather crappy 320×320 display area (along with our other two minigames, Titan Attacks and Ultratron). The window was fixed, square shaped, and decidedly a bit weird. In this modern day and age it seemed a little incongruous.
Also, the game did rather suffer from being somewhat mindless. It started off reasonably sensible but by the time you got to, say, two thirds of the way through the game, it became an almost random frenzy of blaster fire; 90% of the droids were blown up, including often most of your own droids, in the first 10 seconds of the level, leading to a couple of minutes of relative tedium. Again, this probably wasn't going to satisfy the relatively eclectic tastes of the Steam demographic, many of whom clearly prefer deeper, more involved games, as our runaway success Revenge of the Titans has shown us.
So, I wanted to make the game a little deeper and more tactical than it used to be, and the following raft of changes is chiefly aimed at getting depth and tactics into this game to replace the random destruction.
All right, what changed then?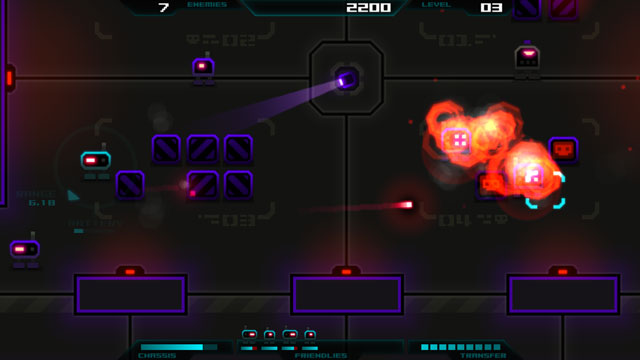 Firstly you'll notice the window is now fully resizable. This in turn means you get to see a lot more of the map than you did before. However, we've balanced this by introducing three tactical considerations:
The droids in the game always did have a scanner range and attack range. If you were within scanner range, they'd be able to chase you (or they would that is, if they had dual-core or multi-core brains). The attack range was the range at which they'd actually start shooting. You can now hover over your captured droids to see what these ranges are (red for attack range; where scanner range is greater, it's shown as a dim cyan). The descriptions of the droids usually give a good indication of what their scanner range is going to be like. When you transfer to a droid, the map now zooms in or out to reflect the droid's scanner range!
You can no longer see enemy droids round corners! So you've no idea what droids are lurking around what corner, or where they are exactly, when you go charging around a bend. I've already had one complaint about this, but I'm afraid it's here to stay: IMHO the game becomes vastly more tactical when you have to dodge round a corner to see what you're facing. And tense 🙂
Similarly the ability to quickly scroll through your captured droids is, and with great deliberation and consideration, no longer available. You control but one droid – if you want to transfer control to another of your friendlies, you need a line-of-sight and to use the transfer beam. It's still free to transfer to friendlies, and you still randomly auto-transfer if your controlled droid buys the farm
Those changes in themselves already represent the most significant change in the overall feel of the game, bringing much more serious consideration to the physical tactic of approach and destroy.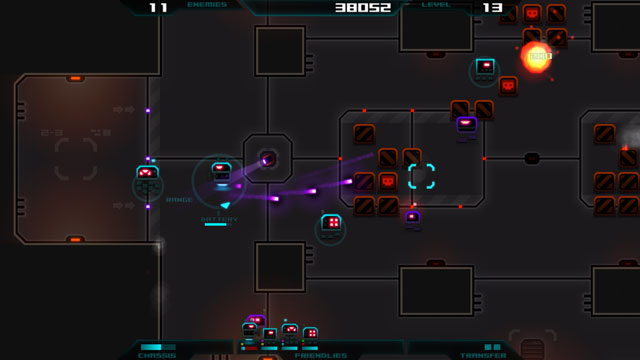 We've also added a neat little feature: you can take cover behind crates and terminals and shoot over them. If you are standing directly behind an obstacle you can shoot straight over it. Unfortunately the enemy can do exactly the same thing to you, although they don't have the brains to deliberately take cover.
If you are a proper badass you will find that you can quickly blast 10 droids to smithereens in the space of a few seconds. Every time you blow up a droid inside a small time limit (which has increased slightly since the last version), your score multiplier increases. This is good, because you score loads of points for multi-kills. (Pro tip: shoot little droids first then blow up big ones worth more points at the end!) However, if you reach x10 multiplier, the level goes into red alert and a squad of nasty droids is beamed in to clear you out!
The distribution of droids on levels has now changed somewhat so that there are a few more of the lower ranking droids and very few badass droids. They are now rare. Not only are they rare, but they are also considerably more expensive to capture. Previously you only needed to score 1000 points to earn a transfer point; now you need 1000, 2000, 3000, and so on; saving up to get yourself a K911 is going to cost you 45000 points now! Not only that but they take rather a lot longer to capture. This would suck greatly, were it not for the following mitigating factors:
The big droids, being quite rare, are also less likely to be shooting at you, as well.
Higher security class droids now have loads more hitpoints, meaning they are much more resilient to damage than before, and hence last a lot longer in a firefight.
The rate of permanent decay of higher security class droids has been slowed a tad, so they last longer under your control.
The ordinary health powerup has changed: it now restores 25% of your shields, and it repairs your permanent chassis degradation by the same amount. That means your super-buffed battledroid can be kept alive a whole load longer than they used to!
Because they are rare and expensive, they are things of great value, and much more interesting to capture.
This fundamental shift in the balance of the game promotes tactical metagaming decisions besides the increased tactics you need to employ to destroy the enemies in relative safety. Do you save up for a B821 or do you just keep getting crappy M511s and hope to survive? Is a B821 really worth it? etc.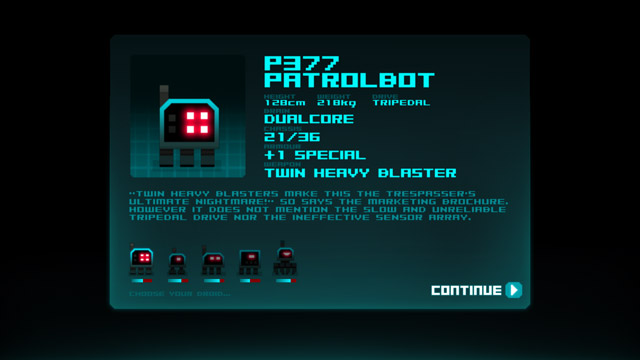 And finally here are a bunch of more trivial, miscellaneous enhancements:
Some droids are now flameproofed and naturally, this can also be picked up as a powerup.
The spreader cannon and assault cannon and ripper cannon now all cause stun, momentarily stopping enemy droids in their tracks. They also do more damage and stun the closer you are. The spreader cannon and assault cannon are now multi-tap rapid fire weapons like the ordinary blaster – seriously powerful.
Even invulnerable targets are eventually damaged by weapons that normally deflect off their armour.
All of the weapons have been buffed somewhat when used by you directly. Although the game is now more tactical and sneaky, we've made up for it by giving the weapons battery and recharge boosts to make sure there's plenty more shooting to make up for it when a firefight actually occurs 🙂 In particular the relatively crappy multi-blaster now has a mahoosive clip, and the double versions of ordinary blasters are no longer nerfed by clipsize; so they are indeed genuinely weapons worth having, even in weedy droids
A few of the droids have been subtly altered or tweaked to make them a little more unique from each other.
Dotted all around the map are little invisible barriers that the enemy droids cannot cross, keeping them penned in to certain areas. These barriers are now removed if you enter red alert status, or if the number of droids remaining on the level does not outnumber your infiltrating force by at least 2:1. So you'll suddenly find droids running even more amok.
Sadly we had to change the blaster noises 🙁 But the previous ones were of, ahem, unknown provenance, and almost certainly ripped out of a certain film involving wars in stars or something. So whilst we lament their loss, at least be cheered that the new noises aren't half bad either. And now they've got variation too!
There are a ton of other code changes under the hood to keep things up-to-date but I won't bore you with the details unless you're a geek. In which case you might be interested to know that the entire sprite engine now uses VBOs and GL_TRIANGLES only; no more GL_QUADS, in preparation for OpenGL ES, which doesn't have GL_QUADS. A major irritation if you make a sprite engine, it turns out.

Now go forth and find bugs! And save your whining, because it's too late, and we're not changing it back. Keep the old version hanging around if you feel nostalgic.