Thanks for all the feedback on the HUD changes – it seemed opinion was split between versions 1 and 2, but with the majority in favour of version 1, so I've gone ahead and sorted all the graphics and XML for that.
It may be possible to add some option to choose between the two at a later date, and I've arranged the various buildings so that they could potentially open up from category icons in little panels of 1×3 or 2×3 building icons… but as its taken 2 and a half days of fiddling to sort the HUD out so far I don't think I'll have time to do that before the next release which we have planned for Sunday.
This is how it was looking before…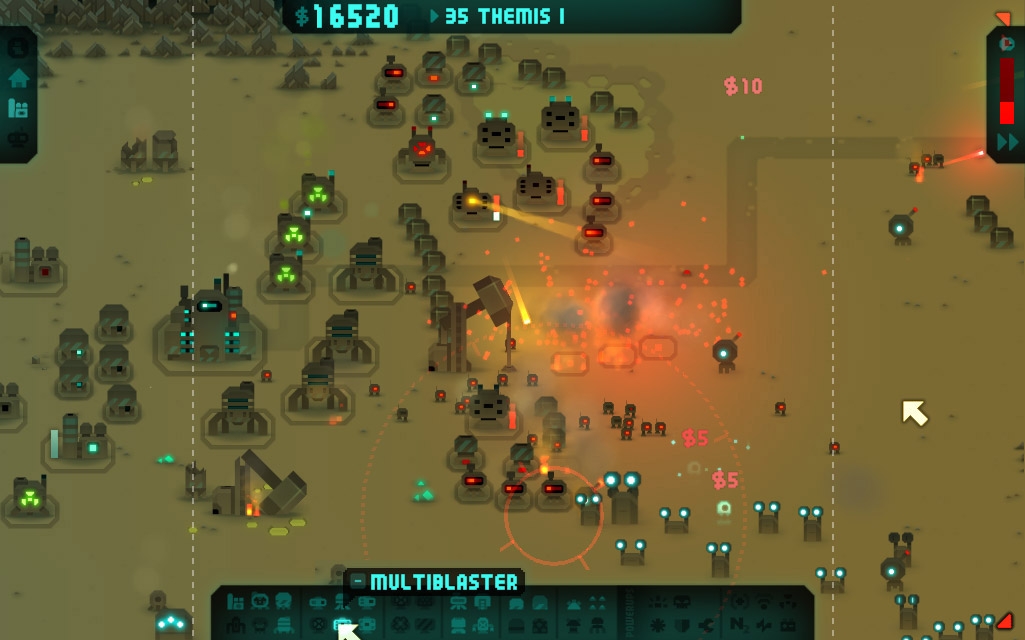 … and here's how it looks now….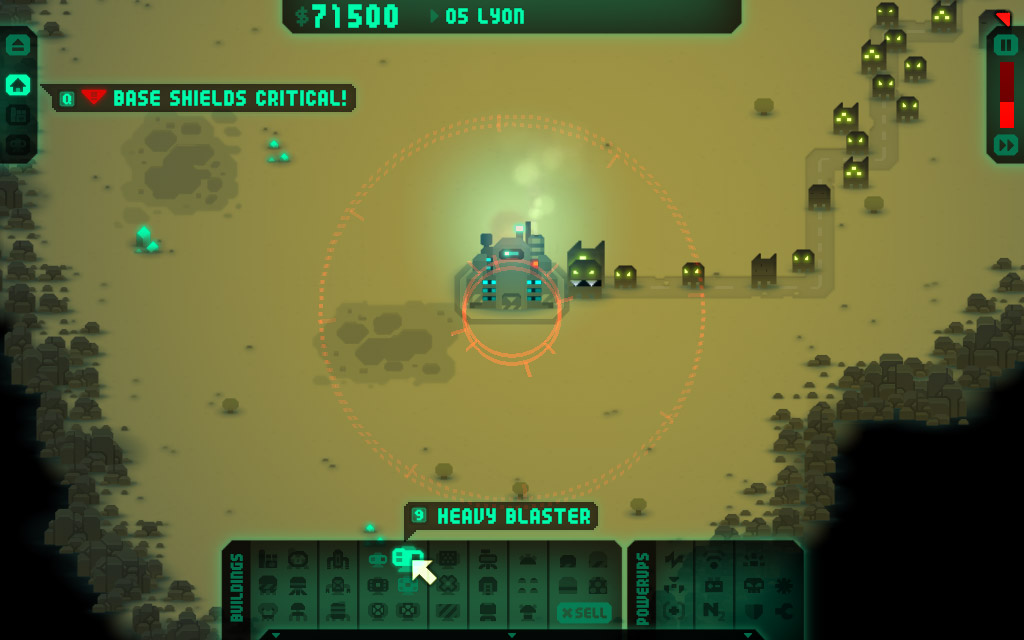 Changes made…
Changed from 2 rows to 3 for buildings and powerups, to make space for sell button and increased icon size
Added sell button, which changes to a red cancel button when in sell mode
Replaced build mode cancel button with new one
Increased building and powerup icon size
Added zoom effect on hover to all the icons
Added 'buildings' label in addition to the existing 'powerups' label, and updated style
more space between icons and categories of buildings and powerups, with more distinct separating lines, and added gap between buildings and powerups
added show/hide button on the bottom edge
restyled the various buttons in the top left and right panels
added buttons for pause and for the existing 'esc' menu, in new button style
made the shortcut keys consistently a bit brighter – previously it was a bit buggy
fixed a mistake in exporting a few of  the shortcut key graphics, which meant four of them were mixed up
made the extended info panel a tad tighter
moved extended info shortcut key from top right to top left, so it's now before the building title like in the tooltips
We'll add options to suppress tooltips and the extended info panel, and make the extended info hide immediately when you move the mouse away from the bottom panel, rather than hanging around for a second or two as it  does now.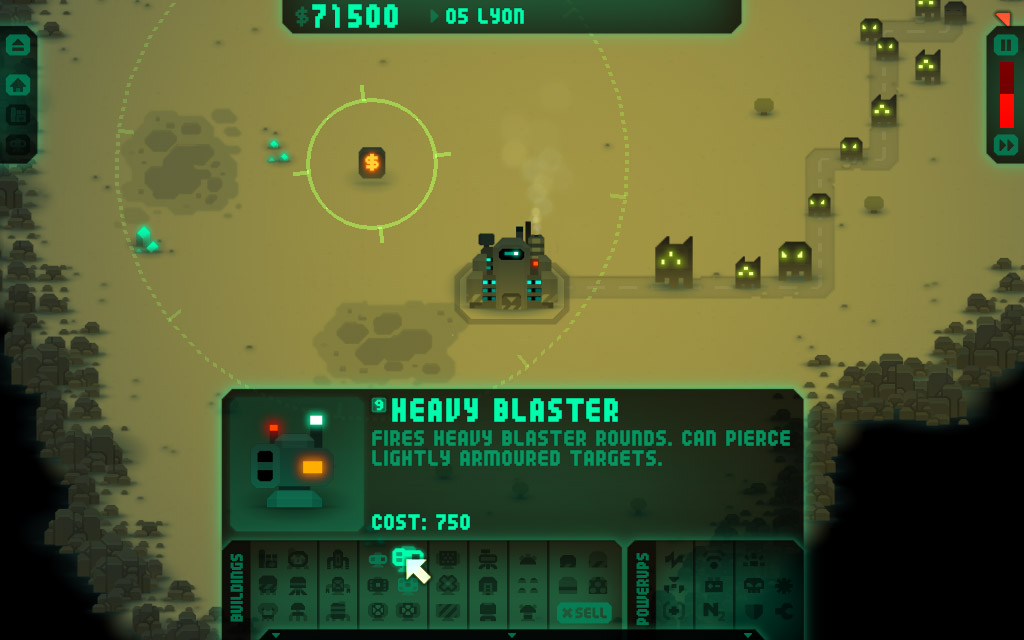 Here's with the panel hidden, activated by clicking on the long thin button on the bottom edge, or currently by pressing the insert key (though spacebar would be better perhaps – don't think that's being used for anything at the mo)…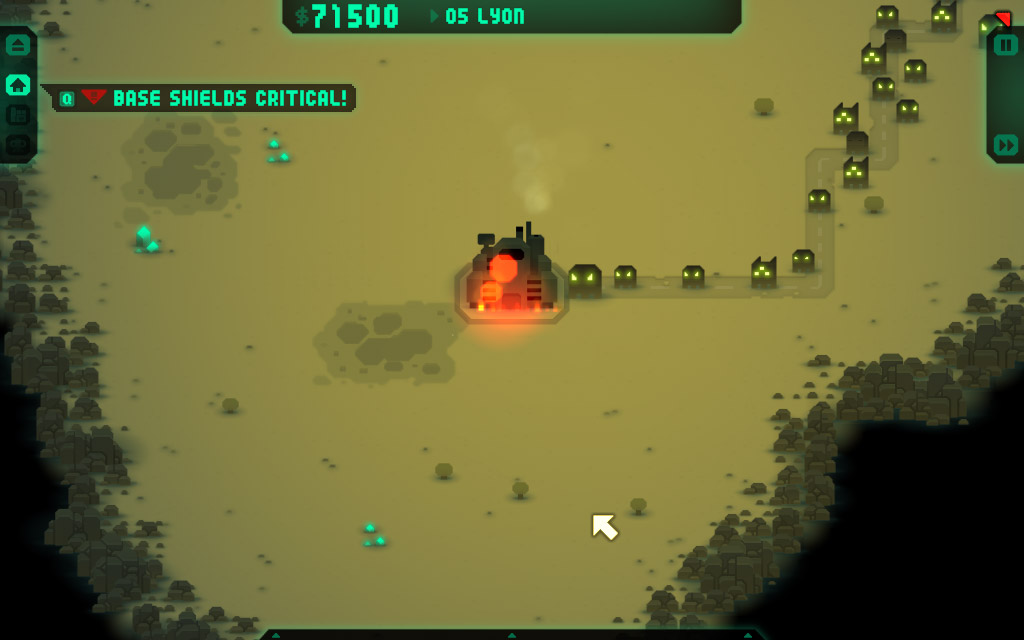 Next post coming up soon – the research screen