So, here we have the latest Battledroid alpha release, the second so-called "sprint". You will notice it is lamentably already 4 days late – way to go guys! We've clearly not quite got the hang of this agile development malarkey.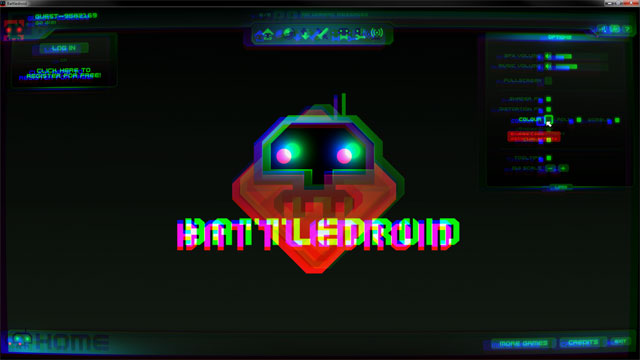 Firstly, anyone who does not yet have the client already can get it here:
Battledroid for Windows
Battledroid for Mac
Battledroid for Linux
If you've already got the Battledroid client, you don't have to redownload it – it should update automatically with the latest release like the rest of our games.
Known Issues
Expect to encounter…
tabbing doesn't work in forms
scary security certificate warnings from emails
What's New
In this sprint we wanted people to be able to register a guest account, change their email address, change their passwords, reset password if they forgot it, and log out again. We wanted the titlescreen UI to behave fully correctly, (less library bugs that is) and its design to be more or less finalised.
Well, we did all that, but we've also implemented the Options panel as well, which wasn't supposed to be in till next Friday. Graphics options are a little more expanded upon from previous games, and check out the cunning GUI scale feature. The GUI will also automatically scale if you go below 4:3, meaning the game is perfectly playable on a monitor set up in portrait mode.
Anyway – if you could, we'd like you to test out the registration and login processes, and the account management functions. You will notice a scary security certificate warning if you click on any links we send you from the Battledroid mailer, but that's because we've not got proper SSL certificates in place yet.
Also, if you would care to click on the second tab icon at the top – world map – you'll get an early test of our new sprite engine. Though not completely optimized yet, we're currently testing with 60,000 dynamic sprites on a background of 1 million static sprites. Middle mouse wheel will zoom, hold RMB to scroll, LMB to paint more sprites!
And… first cut of a theme tune – work in progess – open options and slide music volume to 11 🙂
Post Mortem
So how did we manage to miss this sprint by 4 whole days? There were a combination of factors which I'll list.
We foolishly started working on something that wasn't originally in the sprint scope – the options pane – and then even more foolishly continued working on it to make it finished even though we acknowledged to ourselves we weren't supposed to be doing it yet – but hey it made a nice change from login dialogs 🙂
Never forget how fiddly something like a simple forgotten password form actually is, once you add validation and connection and success and error states.
There have been several deeply buried bugs in SPGL2, our UI and framework, which made some bits of the UI misbehave in very complex ways, which took a while to sort out
Also, I had an unscheduled time off of about 3 days and I'm unfortunately a relatively critical piece of the puzzle
Although the world is still actually turning and no-one has exploded, it is slightly embarrassing failing to manage to release what we planned to release on time. The next sprint is now in just over a week's time but fortunately we've already done the Options pane that was supposed to be in it. What comes next is:
Full Steam integration
Upgrade to Premium Account
Downgrade to Free Account
Delete account
However, Premium Account handling is a whole bunch of extra work that isn't immediately apparent, and I can't help but wonder if we're only basically going to get Steam integration working at this stage. One or the other. I think I'd like to do the Premium Account stuff before Steam integration.
What's a Premium Account you say? Well, these are accounts which have a monthly subscription. The idea is that as well as putting your monthly subscription into your account in "game gold", you'll also get some huge discount on your IAPs (say 50%). Nice.