We've been listening to your feedback on the Revenge of the Titans beta over the last few months, and with this new update (v1.51) we've attempted to address some of the most requested changes. And of course there's a load of other tweaks, not least finally the ability to sell buildings! Here are the download links…
Don't forget to check the version number to make sure you've really gotten 1.51 installed. Here's what's new, changed, fixed, twiddled, and nerfed:
Bugs Fixed
Fixed: stuttering sound (hopefully!)
Fixed: HUD money updates when intermission screen is showing
Fixed: Reloading a turret in build mode should stop build mode
Fixed: Can't reload a turret or collect a factory when in Build mode
Fixed: creating path for gidrahs overwrites odd ruin tiles – needs to either leave them or delete all tiles associated with the ruin
Fixed: dialog text not centred on game over
Fixed: Apostrophe key ' now correctly selects autoloader for build
Fixed: Load/Save. Again. All files now stored in user home directory.
Fixed: Gidlets now only immune to explosions when spawning
Fixed: Ruins used to block blaster fire in their bottom left corner: this is now specified per ruin for the whole ruin or in a mapping attribute
New Features and Enhancements
Medals
Ranks
New intermission screen
New ESC menu
Wired up ESC button on HUD
Completely new in-game UI
New Game Over UI
Added the in-game menu to the research/story screens so you can quit out at that point.
Change the way shield generators work
Wire up new options (to hide various GUI stuff)
Rockets now explode when they hit the edge of the map
New research GUI with all the stats and two different views
Sell mode
DEL key wired to Sell mode and middle mouse button
You get 10 seconds to sell a building after construction in which you'll get 100% of the money back (like an undo)
Laser to be able to fire into mountains (turret needs to be able to see too)
Appropriate story tweaks when flying gidrahs appear re: lasers
Removed [X] button from hints panel – click anywhere to close it now
Hints now remain onscreen for 7 seconds max
Top HUD fades out as mouse approaches
Bottom HUD now hideable with toggle button (INS key)
Balance Changes
Gidrahs now get a little more urgent and fearless when the timer runs out
Nerfed damage bonus for alien anatomy to just +1
Increased research cost of a few things
Nerfed laser/rocket ranges a little
Saturn gidrahs now a teeny bit harder
Slightly increased saucer duration on earlier levels, decreased on later levels
Reduce crystals available slightly now Sell button implemented
Tweak tuning: game needs to be tiny bit harder tiny bit sooner
Internal Stuff
Completely change the way game metastate is persisted
Store exact representation of level instead of relying on dubious random number seed
Gidrah now uses 1/32th the RAM courtesy of using packed bits in ints in its tiny brain
Awarded a non-repeatable medal sfx
Awarded a repeatable medal sfx
New rank sfx
Sold sfx
Can't build sfx
Insufficient funds sfx
And onto a few pics…
We've had a fair few requests to be able to see the statistics of researched buildings, and to see in some form the research connections between technologies and buildings. Here's the new Research screen showing those stats, and the improved table and the new tree layouts…
(You can read more about the changes in Research GUI for the Tweak)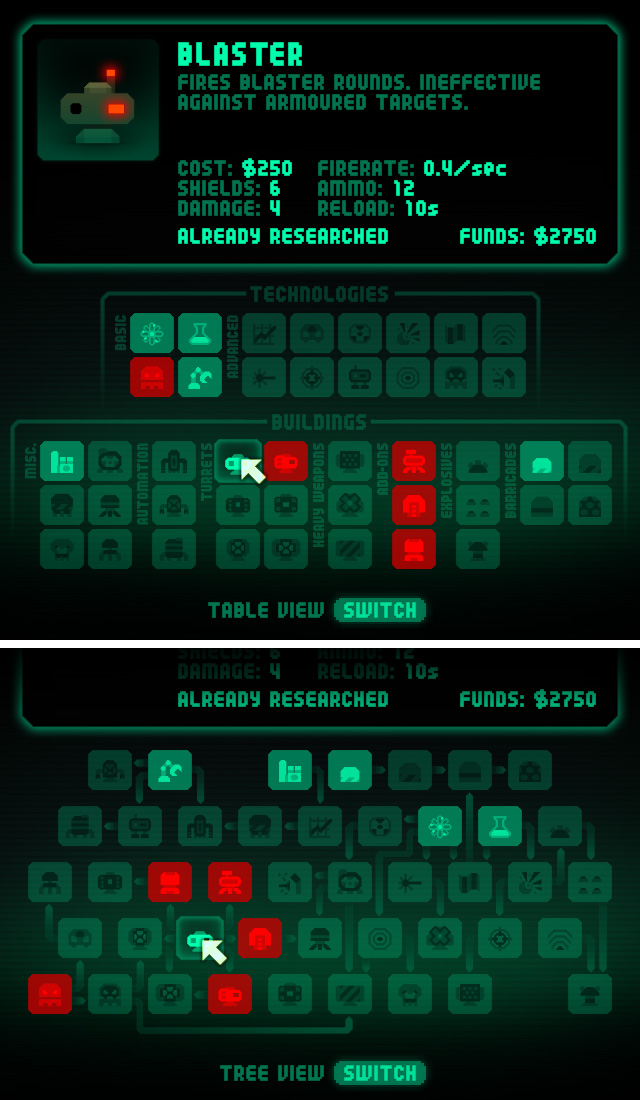 Adding the requested 'Sell' button required a HUD redesign, so we made some oft suggested alterations as well…
( more info here: Revenge of the HUD Redesign and Revenge of the HUD part 2 )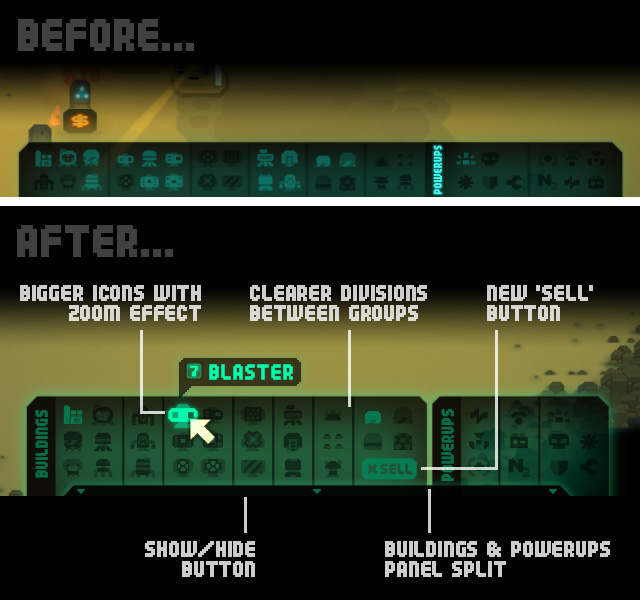 The old in-game ESC key menu has been given a restyling, and is now accessible from a HUD button. You can access this menu from the various Story and Research screens by pressing ESC too. Options on the Game Over screen have also been updated…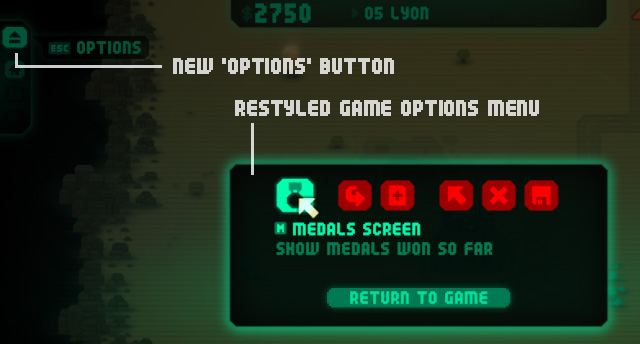 And last but not least, the Achievements dialog showing Rank and Medals…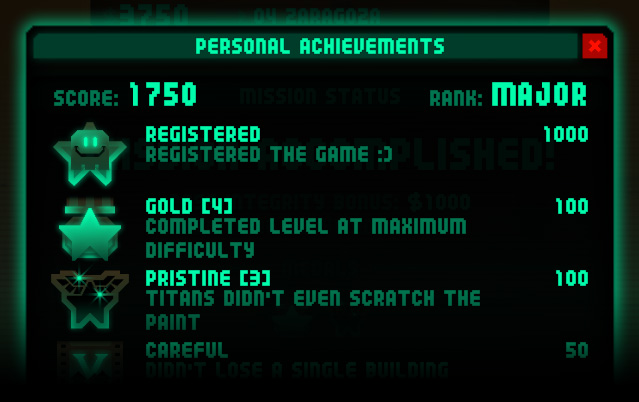 There's also a new Level Complete dialog – though that looks a bit pants at the mo, so wont bother with a screenshot 🙂 That'll probably get a bit of a tidy up in the final polish stage of development.
Next up on the todo list – Cas will be adding Endless and Survival game modes, and I'll add badge graphics for ranks before making a start on the Titan levels. The jury's out as to whether to tackle Endless or Survival first, but right now we're hedging our bets with Endless mode, which is like the current campaign mode, but without a story, or… an end. Just level after level of slowly increasing size and difficulty, drawn randomly from the scenery we've done so far, until you are defeated (and there's only one life). We expect Endless games to take hours to play, by which time you will probably be a gibbering nervous wreck.